Kentucky's Top 10 Players in the Class of 2023
Kentucky's Top 10 Players in the Class of 2023
August 1, 2018 View all posts by Fletcher Long
https://kentuckyprepgridiron.com/author/fletcher/
Well, we were the first publication in the history of Kentucky to undertake a middle school poll. We were the first publication in the history of Kentucky to fashion both freshman sophomore All-State Football teams. So, why not be the first publication in the history of Kentucky to rank its incoming 8th grade class of football players? Okay, we'll do it. We believe the following ten players are the rising middle school varsity's very finest football players anywhere in Kentucky as we sit here on August 1, 2018. Since we are featuring them in one article, we will just start at the top. Some of these prospects project to be future college football players and some of them are just among the elite players at the present state of development. Here's our top 10, and anyone who would like to quibble with it can formulate their own.
Number 1; Pikeville, Carson Wright…
Carson Wright is 5-11, 170 pound linebacker who I probably would have had ranked behind fellow linebacker, Hopkinsville's Oscar JT Adams but for his incredible performance at our All-State, Mountain Combine in Pikeville, Kentucky in June. Carson's numbers were just sick. Wright took top honors at the combine for middle school participants, regardless of position. Truthfully, we forgot he was in middle school at all as he might have won top honors in the high school division too and there was some pretty stout company competing there. Wright was timed in the Mountains running a 40 yard dash at 4.52 seconds and registered a 4.31 pro-agility shuttle. Wright clipped the L-cone drill in 7 seconds flat and repped the middle school, bench press rep weight of 115 pounds, 20 times. That would make Wright's estimated, one-rep, bench press maximum right around 186 pounds. Carson has made numerous Team Kentuckys including playing for this summer's version which bested Tennessee 31-28 in overtime. JT Adams was the defensive MVP of the game but that distinction could have been awarded to Wright just as easily as both linebackers were exceptional in that game. Carson gets a slight edge on present frame, agility, strength, and speed, but the edge is ever so slight.
Number 2; Hopkinsville, Oscar "JT" Adams…
Maybe the hardest decision we, at KPGFootball had to make here was which of these two linebackers should head our list. JT Adams, truly, had an incredible performance at the Tennessee-Kentucky Future Stars Classic at Georgetown College and took the game's Defensive MVP Award home with him. Had I published this article right after that game, I believe the order between the first two spots on this list would have been reversed. JT Adams played last season at McCracken County Middle School in Paducah, Kentucky. Offensively he was a running back/tight-end hybrid and, defensively, he played middle linebacker. He played in 7 games for the Mustangs and collected 41 tackles, 22 solo, and forced two fumbles, recovering one. Offensively, Adams carried the ball 28 times for 230 yards rushing, averaging 8.2 yards per attempt, with two rushing TDs. He also scored a pair of two-point conversions on the ground. When aligned at TE, Adams caught 8 balls for 93 yards, with one TD receiving and one two-point conversion. Blocking at the TE position, Adams registered eight pancakes in seven games. This summer for Team Kentucky, JT tallied 15 tackles, including a pivotal fourth down play, sealing the game's outcome on Tennessee's possession in overtime. Doesn't have quite the physical attributes of Carson Wright, at least not yet, but for being a pure football player, his value to a team can't be overstated. He will make the Christian County Middle School Colonels much better than its 1-7 effort from a season ago.
No. 3; Louisville, Kaden Briggs…
Kaden Briggs is 6-0 and weighs 190 pounds. He plays both defensive end and running back in Louisville but was on Team Kentucky as a DE. He has a reported 40 yard dash time of 5.22 seconds, he bench presses 225 pounds, and he back squats a cool 300. Just look at the picture to the left of this paragraph and tell me you would have thought him a member of Kentucky's class of 2023 if I hadn't told you that. Kaden uses his hands well to shed defenders and scrape down the line and make plays, he has good flexibility and bend enabling his ability to dip his shoulder underneath the tackle's hands and slip into the backfield to pressure QBs. On offense, Kaden plays running back and provides the type of big back problems to linebackers coming up to tackle him. Briggs plays for one of the most storied programs in Louisville in the Tenth Street Cardinals and its head coach Joe Thomas. Kaden is just a grown man, truthfully, and easily could have headed this list as the Commonwealth's very best player in the 2023 class. Instead, we have his third.
Nos. 4 & 5; Whitesburg, Peyton and Mason Sayers…
These are both big bodies, mobile, and agile trench-men who have been stalwarts on Team Kentucky, FBU and Future Stars. They are considered among the elite linemen in America, have been invited to participate in everything from the FBU All-American game to Top Gun. They are physical, run well, and absolutely huge but the complete absence of information about middle school players, even middle school players who are nationally prominent like the Sayers twins, is hard to come by anywhere but on this site. We have before interviewed the Director of Kentucky Future Stars' football after one of the Future Stars combines and here's what Ricco Hughes had this to say about the Sayers twins…
The 7th grade was highlighted by the tone setting aggressiveness of returning OL/DL brothers, 
Peyton
 and 
Mason
Sayers
. Those guys' experience helped the entire group step up their efforts and intensity!
 As for size, it is hard to say with nothing about them being on-line, but in talking with other media who cover future stars football, it is our belief the two of them are roughly 6-0 and have to be in the 280 pound range. The reason it is hard to say for sure is they aren't the least bit flabby, move well, and appear quite muscled-up, so they could be even heavier than what we have listed. Either way, they are the two most dominant and devastating linemen in Kentucky's 2023 class and a problem to figure how to handle on both the offensive and defensive fronts.
No. 6; Somerset, Korbyn Goff…
We have had the opportunity to talk with Coach G.J. Wooldridge who coaches on the Team Kentucky FBU staff, the Team Kentucky Future Stars staff, and at North Pulaski, where Goff plays in the backfield for him. According to a guy who has seen scores of top, middle school prospects, no one in Kentucky can claim to possess more 
big play ability
 than Korbyn Goff. Korbyn is a burner. He was one of the first 2023 kids we featured and, when we first wrote about him, he hadn't yet entered the 7th grade. Nothing about Goff fits the mold for a skill player who is in his present stage of development. Now, some of the numbers we have on Goff have some age, as they were when he was entering the 7th grade and the physical development which occurs between 7th and 8th grade can be jaw-dropping, however, when last we checked, Goff was a 5-5, 150 pound kid who had been timed in the 40 yard dash in 4.7 seconds. We likened him to the Class of 2021's Ethan Mills who is tearing it up at Knox County Central, coming off an AFI-KPG freshman all-state team performance playing varsity football in Class 4A. Korbyn led the 7th grade N. Pulaski to the State Football Championship when he was only a 6th grader and North Pulaski lost to Johnson County this past year, but still made the State Finals.
No. 7; Bowling Green, Colin Fratus…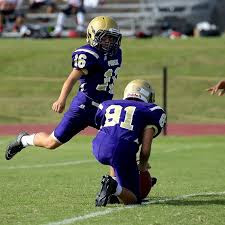 Colin Fratus from Bowling Green Junior High School has been chosen as the nation's top place kicker in the Class of 2023 by the National Football Foundation's Pro Football Hall of Fame Academy. I think if you are number one at your position nationally, logic would dictate you are certainly in the top ten overall in the Commonwealth of Kentucky. People often overlook place kickers and punters especial on the middle school level where many teams don't even have one, but the elite middle school teams, like Bowling Green Junior High School, generally have great specialists and it is why they win Championships and the other teams don't.  Fratus will play in the Hall of Fame, 8th grade game, in Canton, Ohio on August 3, 2018. We first featured Fratus, together with some other top performers in an article entitled 
…And a little child shall lead them
. In that article, linked herein, we described how, in overtime of the Tennessee-Kentucky Future Stars' 7th grade game (for players entering 8th grade) Kentucky's first possession in the overtime stalled out at the 10 yard line. Kentucky called on Colin Fratus, who had converted every PAT on the day (without which we wouldn't have been in overtime in the first place). Fratus calmly trotted out onto the field and drove a stake through Tennessee's heart by nailing a 30 yard field goal out of a bad snap, but brilliant placement, to provide the ultimate margin, thus sealing the Kentucky victory 31-28. We thought, and noted in the article, Fratus could well have been offensive MVP of the game, but for the heroics of 6th grade quarterback, Cole Hodge. No body shows kickers in football any love until it's time for them to win the game for the team, and then we love them. At KPGFootball, we love them year round.
No. 8; Cadiz, Matt Alex Ladd…
Another overlooked position is the offensive center. With teams seemingly always aligned in the Spread, and working from the shotgun, it is curious the position gets so commonly overlooked. Can't run any offense with the snap. Matt Ladd, who played for Team Kentucky Future Stars this summer is 5-11 and already weighs a substantial, but not sloppy, 250 
plus 
pounds. Judging by the length of his arms and the size of his hands and feet, I would wager a significant amount he isn't done growing. He will be mammoth. Now, Trigg County has a penchant for developing some accomplished power lifters and Ladd is already inscribing his name to that list. Ladd, this summer, squatted over 300 pounds, indicating to me he has good hips and good core strength. I see evidence of this in his stance, where his hips are low, and he demonstrates the ability to transition from stance to engagement in a fluid and seamless manner. Oh yeah, his shotgun snap, which he has years of experience doing, is 
money
. Ladd is a guy who, undoubtedly, has continued to train, lift, and work on his strength, power, and explosion since the Future Stars game. There is no telling where he is physically right now on the cusp of the season. Regardless, I would take this kid, flank him with the Sayers twins and run all over you, just like Kentucky did to Tennessee in June.
No. 9; Belfry, Brayden Spears…
Would it even be a legitimate list without a Belfry kid? Probably not. Brayden Spears is a freakishly big and strong rising 8th grader from the Mountains with long extremities who figures to get much larger and stronger. Hmm, where have we heard this said about a kid from Belfry (Cole Bentley, Rayquan Horton, Ethan Wolford, Dagen Rash, etc.)?  Spears is a 6-2, 210 pounder and extra-long in his extremities indicating to me he is still growing and has quite a bit left before he fully fills out his frame. Now, a lot of kids who are the size of Brayden on the cusp of entering 8th grade suffer from an awkwardness, a slow-footedness, and a lack of agility/coordination which tends to naturally manifest in young players who have grown really big, really fast. Brayden isn't physically uncoordinated, slow, or awkward. In fact, most describe him as having well above average speed and really good feet containing loads of quickness, agility, and coordination. Spears plays both OL and DL at 
Belfry Middle School
, last year and can play either side of the ball equally well. For my money, I would develop him to play left tackle on offense and DE on the other side of the ball. With his length and frame, I would see him giving upfield ends fits trying to flank him.
No. 10; Barbourville, Bracken Castle…
Bracken is our second offensive center to make this list and the 5th guy, out of 10, who plays with his hand in the dirt, and that is not counting No. 3 Briggs, who counts DE among the positions where he aligns. You have probably gleaned several things from this. First, KPGFootball believes football teams are built from the line of scrimmage out, and therefor the linemen are really the most important players on the team. Secondly, having a reliable snap, in the offenses most commonly employed in today's football is vital to an offenses proficiency. Finally, KPGFootball got a writer to write this article who spent his entire coaching career, prior to journalism, as an offensive line coach. If you figured those three things out, you were on the money and win the prize. Bracken is the slowest developer, physically, on the top ten list. When it is said and done, he may end up being the largest and may also have the most upside potential too. Bracken is 6-2 inches tall now and weighs 235 pounds. This late bloomer plays Center on his middle school team. Has a 6-8 reach and probably projects as a Tackle as he matriculates ultimately to high school football and beyond. Bracken played for Team Kentucky Future Stars and FBU and has been described to us as possessing a strong hand punch and a quick-twitch launch from out of his stance and into engagement. Castle is already training with personal trainer Chaz Martin which will increase his strength levels to devastating levels as he leads his middle school team into the 2018 season. There is is folks, the KPGFootball top ten for the Class of 2023. This should get the debate rolling around the Commonwealth as middle school teams are on the brink of kicking off their seasons all over the Bluegrass. We all be excited to see how it all fleshes out and hope you will continue to read the site and enjoy it with us.